---
Art Show coming up in October.
---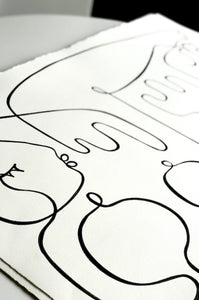 ARTIST STATEMENT
Fascinated by the choices we face and make daily, I find my inspiration in my own relations to others and myself. 
Captivated by the daily inputs and distractions that often make us forget to appreciate our own humanity, dreams and desires - my motivation is to strive for a simpler, uncomplicated and uncompounded life, where we can rekindle innocence, love, and ultimately find inner peace and health.
All my works have a personality of their own. They are loving celebrations of all the flaws, insecurities and differences that makes us human and beautiful. 
lilo
---
ARTIST BIO
Lilo is an artist and muralist living and working in LA. Her artistic practice concentrates mainly on paintings as a medium.
Her esthetically pleasing signature black and white paintings have a unique style that effortlessly mixes contemporary with the nostalgic and the flowing whimsy details adds a delicate and modern feminine touch to her work.
In the past Lilo worked as a story producer, show runner and executive, developing and creating TV shows that have been sold, shown and adapted all over the world. 
5 years ago she decided to leave the TV industry and dedicate herself full time to her art and tell her stories through her paintings.
Since then she has painted murals, had art shows and been a part of group exhibits in Los Angeles and Sacramento.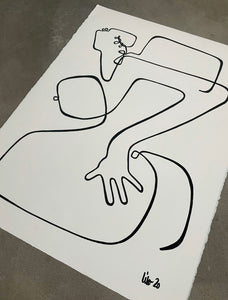 ---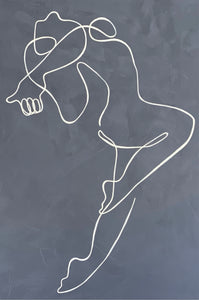 CONTINUOUS LINE
Lilo's continuous line work is created, as the name says, by not lifting the pen from start to end.
I love the simplicity in the lines. They tangle up. Just like the relations with ourselves and others. And as in our relations, we can chose to zoom in and get lost  - or look at the full picture and see how simple and beautiful life really is. 
---
Lilo's Wall Jewels
Lilo's wall jewels in the "Chains" Collection are inspired by pearls and chains on wet skin. 
I have played around with the idea of creating something really feminine for a while.
I realized that the times I have the most fun and feel most feminine, my skin is wet: Wet from swimming, wet from sweating, wet from dancing, sunbathing, running, hiking, partying, and in bed.
When my skin gets wet my necklaces and pearls stick to my skin, creating a magical and intimate frozen pattern.
Every "pearl" is hand poured on canvas or art board and finished off with several coats of mat synthetic polymer, creating a smooth velvety feel and look.
The shadows from the "pearls" shifts with the light, creating different looks throughout the day.